A
whale of a time
Ivan Boyd , the new head of the labs, (BT Group's Research and Venturing arm), arrived on a day of rest, so we went to the aquarium - The Atlantic Ocean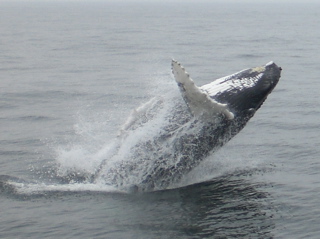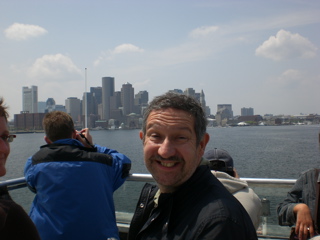 Ivan had the misfortune to arrive here on a US bank holiday, so there was no chance at all of getting anyone out of bed to show off Media Lab stuff on his first day here. That's probably just as well, since jet lag can be fatal.
So while Ivan was acclimatising to this longitude, we naturally went to the aquarium, and then took out a boat to go whale watching. Meant I had a chance to catch up with things from back home, from the horse's mouth, and also an opportunity for a crazy whale calf to show off mightily.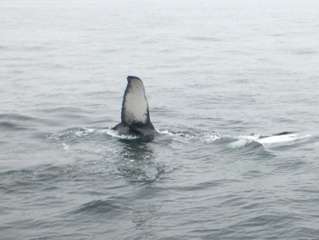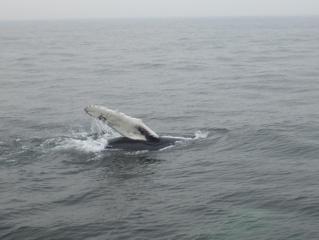 I've never seen anything quite like it - the whale must have known there were tourists there, and was just having a laugh seeing if he could surprise us, popping up on different sides of the boat as he zoomed around. Every once in a while he'd jump right out of the water from an unexpected location, and come crashing back down in the waves. I started sneaking around to the opposite side to keep one step ahead of him, and then got lucky, catching him in the act.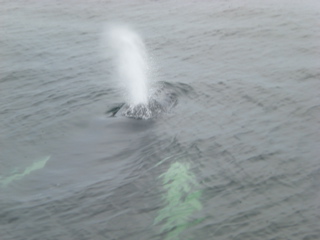 Haven't had the chance to publically congratulate Ivan Boyd on his promotion. I'm a big fan, and that's not just because he's the boss. I think he's got a very practical and direct approach to getting things done, and we're already beginning to see the results. Anyway, that's enough toadying.
Tagged: