Messing
around in boats
Learning to sail on the Charles River - a deal too good to be true
Community Boating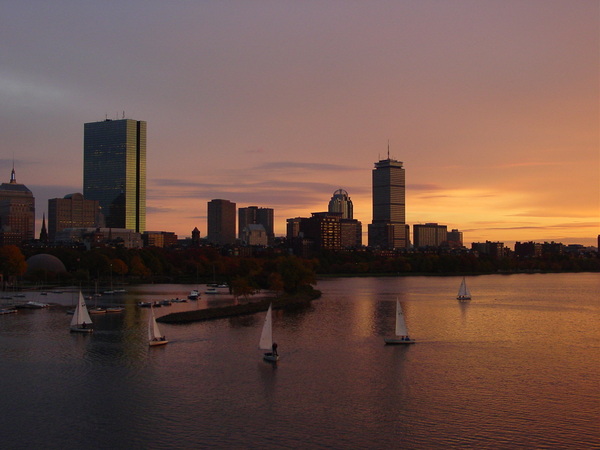 Visit the No Jib No Rudder site
Daniel Bastreri and I came pretty close to buying a yacht earlier this year, but sanity prevailed. We thought it would be a good idea to learn how to sail. I'm incredibly lucky here in central Boston as there's a Community Boating initiative which runs on the Charles river between Longfellow Bridge and Mass Ave. - a huge stretch of water supplied with more than 70 boats which members can take out on the water at any time. There's also free training included for $199 a year!
I've jumped right in there, got my membership and completed a couple of courses already - Orientation, Shore 1. Thanks to volunteer instructors like Todd who took me out with another student I've already taken control of a boat and navigated it safely up and down the Charles. I was even allowed to control it throughout a docking procedure - panicking roundly, but no catastrophes - docked safely.
Once I've completed the Rigging course tomorrow night I should be able to take a boat out solo. You might spot me live on the CBI webcam. It's a fairly benign waterway apart from the flotilla of amphibious duck boats which tear up and down. I love those things but they're a bit forbidding when you're in a tiny dinghy alongside.
Tagged: