Being
There: Cefn now a world record holder!
Co-pilot (or luggage) for Toby Colombe's Tandem Paragliding out-and-return world record - proven bladder control
I've been fortunate enough to fall into the FAI world record books, or luckily not fall, or something. Thanks to a great friend for a great offer, and sharing his achievement with me, although my main contribution was to hold it in for 7 hours.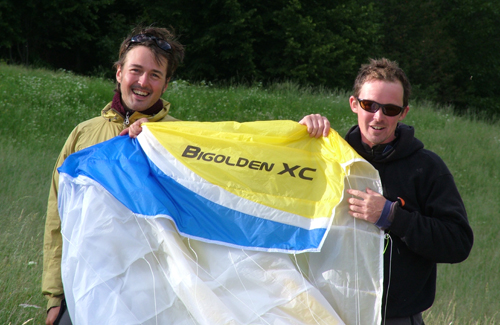 More on my bladder control later. First, the official announcement...
On 26 July, British pilot Toby Colombé of Passion Paragliding set a new out and return tandem world record with a 168 lm flight from Sorica in Slovenia into the Julian Alps, and then back to Slovenia. The flight took just over seven hours, and extended the previous world record set two years ago by local hot shot Tomaz Erzen, by 9 km. Toby was flying a Gradient BiGolden XC for the first time – some test flight! Toby would like to thank Cefn Hoile for "being the perfect passenger as well as exhibiting extraordinary bladder control", and Brett Janaway of XTC Paragliding for providing much needed encouragement and logistical support … oh, and for allowing Toby to test fly his wing.
Below is the official account from the passenger's eye view. For the full experience, you can load the tracklog into Google Earth and follow along.
Being There
The invitation
The timing couldn't have been better. While planning a year travelling the world to become a better pilot, I get invited to be a passenger for a world record out and return tandem flight. I promised I'd get there somehow, to make sure Toby had a passenger for the attempt. Having known him as guide and friend for some years, I knew for sure I'd learn loads from flying with him at this level, but I secretly suspected he might actually pull this off.
Sure enough at Piedrahita on the Spanish leg of my flying tour, where I was a British Open wind dummy, he made it to goal on every task and aced both the Serial and Sports classes on a Sports wing! The stage was set for a mad dash from Spain to Slovenia in my paracamper to get the best weather for an attempt from the record-setting Sorica launch.
Sorica Days
Our host Brett Janaway and the local pilots keep a weather eye for the too-rare 'Sorica days', combining the perfect conditions of strong lift, with a morning easterly wind and an afternoon westerly to maximise out-and-return distances on a series of ridges running into Italy. On our arrival we'd just missed one, but had our fingers crossed there would be more.
Flight preparations rarely went smoothly. An XC Trainer vario permanently died before our 35k triangle test flight at Mont Blanc and the Solario we borrowed at launch and strapped to my flight deck was inaudible, requiring me to sing the beeps for Toby to hear behind me. On our first attempt at Sorica I had a leaking camelbak and no scooby snacks for a potential 7 hour flight, and the GPS had no waypoints entered - a 20 minute delay. The tolerances for a world record flight are very close. You need all the flying time that the day can bring, meaning a very early launch, but even with the extra 20 minutes there wasn't enough lift. We'd gone too early, landing in Brett's garden for morning coffee immediately below launch and wasting a potentially great flying day.
A Surreal Accident at Launch
The next 'Sorica day' came a week later with a brand-new Gradient BiGolden XC for Toby to try out - a high-performing but twitchier wing than we'd been flying so far. There was no time for nerves, hiking up the blueberry-rich slopes from the Sorica plain carrying the tandem and 10kg of water ballast. Forgotten sunglasses swiped from girlfriend, sandwich eaten, fruit bars installed, ready and rigged...wham! Toby's helmet bounces off mine after being kicked in the head by one of the Valic brothers. They'd both been fighting with their belt-shaped performance wings for several minutes trying to get off the ground. Just time to ask him if he's still conscious before we're in the air and heading for the first waypoint.
Getting there
The 7 hour flight passed amazingly quickly. Quickfire instructions for weight-shift were needed less and less as we established a ridge-soaring and thermalling rhythm. 'Left', 'hard left', 'straight' became 'turn', 'easy', and by the end, we were frequently climbing with coordinated weight shift and no instructions at all. Six hours later this confidence would be my downfall, with an urgent call for 'left' as we aimed obliquely at the ridge being met by passenger weight shift to the 'right'. I'm still sure we would have made it round...just.
On the outbound leg I noted huge contrast between Toby's piloting and my 150-hour approach to flying, frequently flying way out from the ridge to get the best lift line, and ignoring so many of the beeps that I would have been turning in, confident that there would be a better payoff further down the line. In calmer sections I'm treated to a live commentary - how to 'step over' in thermals when others have missed the core – as we take an elevator above pilots with much more agile solo wings.
When Toby warns you he's going to 'banzai' or make a 'balls out' manoeuvre, he means it, but it so often seems to pay off. With other pilots eking lift around a large bowl, he will carve straight over, shortening the route and avoiding unnecessary turns. Seeing a cloud he's sure of, he'll ignore the prescribed route altogether and dash right out into the valley as a stepping stone back onto the route.
Far from home
The half-way moment was a dreamlike euphoria at cloudbase with lift everywhere. With the eerie light and deadened sound below the cloud it felt like the end of the world. I had to hold big ears in as we hunted for the turnpoint. Expert solo pilots who had made it this far were boating about aimlessly and being sucked up into the cloud and I was expecting at any moment for one to spiral down onto our wing. The GPS was acting up again and providing no arrows to the turnpoint, so Toby was peering at the zoomed map and trying to aim at the dot. We weren't totally sure we'd made the declared cylinder until the tracklog was uploaded back at Brett's.
Having made it all the way out, there was still the small matter of making it back. I kept Toby's spirits up by pointing out how much harder it was likely to be on the return leg, which didn't go down well. Trying again, I pointed out that I'd already had the most extraordinary flight imaginable so it wouldn't matter to me if we landed short.
Are you scared yet?
The possibility of landing short was soon theoretical anyway, as there were no landings. A few kilometres back, we'd spotted a familiar Niviuk Peak in lift on the other side of a bowl and took one banzai short-cut move too many arriving low and staying low in an isolated, forested valley. I think this was the stage when I was meant to be frightened, but the bladder was already starting to kick in.
I was in the enviable position of being able to lean out of the passenger harness for relief if I wanted to, but it didn't seem fair. This was a team effort and I didn't know if Toby could handle a satisfied sigh from the front seat. Toby sought a pact not to talk about having a piss until we got down, which he cheerfully broke every few minutes for the rest of the flight. Shouts of 'don't lean back' became more and more frequent. Later in the flight it became clear there was a more serious reason. The way we'd rigged the GPS on my shoulder straps brought it perilously close to pushing the power-off button! I stopped leaning back.
In the last quarter we got lucky with a series of unexpectedly strong thermal cores taking us to base and the slow realisation that we really were going to make it. Toby's running countdown of distance to our final cylinder seemed to tick from 40k to 4k in a heartbeat, as our line helped us overtake all the solo wings in the field. It left us wondering if we could even extend the flight beyond the start cylinder. In our tired and muddy thinking we did an extra leg out to a developing cloud before realising that it wouldn't count for anything. We started making hard turns to lose height to an incredibly high speed landing - the BiGolden XC is fast - and even higher speed toilet break!
I'm really proud of Toby for what he's achieved with the flight, and learned a huge amount which already shows in my own flying. Regardless of the record, the amazing views and extraordinary moments of the journey we took will stay with me forever. Would I do it again? Sure. It's the triangle record next!
Really looking forward to our November trip to Toby's school in Morocco, when my nearly new girlfriend Clare will be learning to fly and can join us both in the skies.
Tagged: