Larry
the Bike Man
Helped in my quest for a Folding bike by a real enthusiast
Folding Bikes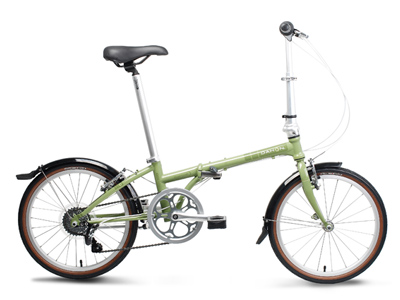 Over the last few weeks I've spent most of my time on a folding bike - the Dahon Boardwalk. This is Katya's bike designed for packing and carrying on the subway or the bus. I really wouldn't be without it now. It basically makes the city human again, instead of having to dive underground or on the bus all the time, or drudge across concrete, you can glide in a few minutes through all the traffic to get exactly where you want to be. Soon, I think I may have to give the bike back to Katya so she can use it herself, so I've been bumbling about trying to find a replacement.
I went ahead and ordered a Kent Magnesium Folding Bike from Walmart for $170, then recanted and cancelled the order. I really wanted to support a smaller operator, and I don't think I'll regret it.
In the end, whilst trying to complete an online purchase from a specialist shop, I had the chance to talk with a real officionado - Larry at RideTHISbike.com. He's personally owned and ridden practically the whole range of folding bikes which I've been considering, and he gave me a full briefing on all the possible bikes, the pros and cons.
I got the feeling that he wasn't focused on making money, but wanted me to be happy with the choice, and enjoy riding it. He was frequently explaining to me how I could upgrade a cheaper bike with a few key parts in order to overcome its known shortcomings, and save a couple of hundred dollars over the more expensive ones. All this, even though he's in the business of selling the bikes. A real gem. I'm waiting on the possibility of ex-demo stock of the original $300 Aerlite before the newer $400 ones come out. Else I'll go back to the Kent Ultra-lite. Hopefully I'll hear from Larry in the next couple days on that stock issue.
Tagged: